Below are this week's announcements
Please read all the way through!
VOCI WOMEN'S ENSEMBLE 30th ANNIVERSARY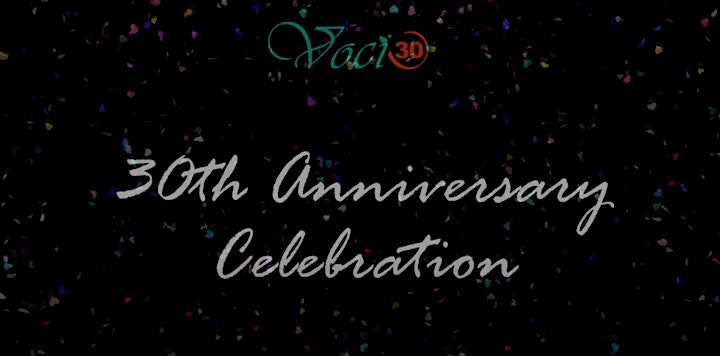 Voci Women's Vocal Ensemble and Artistic Director Mitchell Covington present a one-hour compilation of Best-of-Vocirecordings from our archives, plus featured interviews.
Please join us Sunday, October 10, at 7:00 PM (Pacific time) for a one-hour virtual event:
Hear Best-of-Voci recordings, carefully selected from 30 years of audio archives and synced with stunning and evocative visuals.
Listen to interviews with past and present Voci leaders.
Chat live with Voci singers and audience members!
Donation-based tickets are available now:
https://vocisings.us11.list-manage.com/track/click?u=f67dd7ad9cb9c0908ccf1b841&id=61b941f5e8&e=29ede4830b
A link to the event will be emailed to you shortly before it begins. You'll also be able to find the event on our YouTube channel.
---
THIS DAY: A WESLEYAN WAY OF PRAYER – FOUR WEEK SMALL GROUP CLASS BEGINNING OCT. 11
ZOOM Links
Daytime 1:00 PM – 2:00PM
https://us02web.zoom.us/j/85653681161?pwd=TzBtTERLblhMK08zUzRtdnVNcksxUT09
Meeting ID: 856 5368 1161 // Passcode: 792634
By phone: 1 (669) 900-9128 US (San Jose)
Meeting ID: 856 5368 1161 // Passcode: 792634
Evening 7:00 PM – 8:00 PM
Join Zoom Meeting
https://us02web.zoom.us/j/84831051782?pwd=NGcwR1dOaE5nUyt3Qm1BVWYrWU9Qdz09
Meeting ID: 848 3105 1782 // Passcode: 329160
By phone: 1 (669) 900-9128 US (San Jose)
Meeting ID: 848 3105 1782 // Passcode: 329160
Contact Pastor Pam for more information pastor@lakemerrittumc.org
This week we begin a 3-week worship series, titled "Methodists: Made…Making…Moving…" to help us remember how Methodism came into being, the hallmarks of Methodism through its founders the Wesleys, especially John Wesley, and the nature of our missional faith life as Methodists.  John Wesley was methodical in his rituals, including in his prayer life.

To help enhance and expand our understanding and relationship with Methodism and John Wesley, we are beginning a 4-week small group weekly gathering on Zoom beginning Monday, Oct 11 and concluding Monday, November 1.  We will meet for one hour each week, either 1-2 pm or 7-8 pm.  Because the study will be the same for the day as the evening, you can join either one.  We will use the book This Day: A Wesleyan Way of Prayer.

You can get the book either at the links here  Amazon Book Link & Cokesbury Book Link
Please read the section "The Daily Order and How To Use It" for the first class.
You will notice the prayers in the book are on a 30-day cycle.  Even though we are beginning on Oct 11, we will begin on 'Day 1.'  We will talk more about this in the classes.
I hope you will join me on this journey.  It will be great if you email, text, or call me to let me know you are joining, however, this is not required. (You can decide that very day, even at that very hour.)
---
SING OUT

! 2nd Tuesdays – October 12; 7:00 pm
We'll sing your favorite hymns in the comfort of your home, so Sing Out – because no one is listening!
ZOOM Link
https://us02web.zoom.us/j/87282873991?pwd=Nk1taTAvNzVzelV0dk9mZjNxcmdhdz09
Contact our Music Director, Joan Miller, for requests and more information music@lakemerrittumc.org
---
Seeking A/V substitutes for Sunday Worship!
The Worship Vitality Team is looking for a couple of substitute A/V team members when our regular A/V personnel is unable to be present. By volunteering, we will avoid Rev. Pam from doing the A/V on Sundays in addition to leading worship.  This includes setting up/taking down the equipment, running the worship presentation, and monitoring our live recordings. You'll receive expert training, and a very cool opportunity to serve the church. If you are interested, email Pastor Pam pastor@lakemerrittumc.org with the subject titled "Audio/Visual Team" for more information.
---

VOLUNTEER with LMUMC Food Ministries
Lake Lunches Preparation: Mondays 2:00 pm – 3:45 pm 
Lake Lunches Distribution: Tuesdays 11:30-1:15 & 1:15-2:30
Thursdays 11:30 am – 1:15 pm 
Sign up online by clicking the links below:
Lake Lunches – Monday through Thursday
Monthly Food Pantry Distribution – 4th Saturdays & Fridays prior
Food Ministries Backbone Support Link
HELP US OUT IN MORE WAYS THAN ONE!
Donate to LMUMC Food Ministries by clicking the link below:
Donate to LMUMC Food Ministries here!
Would you like to receive email updates? Sign up here! You may opt-out at any time.